Avoiding Colorado Criminal Convictions – The Impact Of A Criminal History On College Applications
By H. Michael Steinberg Juvenile Crimes Criminal Defense Lawyer
Avoiding Criminal Convictions – The Impact Of A Criminal History On College Applications – The ease with which so many young people plead guilty to seemingly "good" plea bargains with little or no thought of the impact of those criminal convictions on their future – is frightening. In 2015, the impact of any conviction on college entrance applications and at every level of society cannot be underscored enough.
At the time of the plea in any Colorado criminal case, mostly unrepresented individuals are not warned by the District Attorney or the Judge about the impact of their decision to "take a plea" in their criminal case. Colorado law does not require any such warning. But the importance to higher education plans cannot be understated. Colleges and universities use criminal histories and sometimes even more extensive background checks to gauge risk – the risk of admitting the "wrong" students on to college campuses..
This brief article is intended to make certain that the reader considers carefully how criminal convictions are viewed and used by colleges and universities across the country.
Access To Instant Data – Changing The Face Of Our World
The internet and the use of massive and easily accessible criminal record data has changed the face of the applications for advancement – whether they are applications for employment, for student loans, or for admission to higher education itself.
Where criminal records used to be confidential or at least difficult to locate and access, today these records are found online for the price of a night out. Therefore the decision to "plead out" today has long term collateral consequences never before anticipated by any other generation.
Almost ANY conviction, even the most innocuous marijuana possession conviction, is viewed as a negative strike in the college admission process. Drug and alcohol convictions, every type of municipal and misdemeanor conviction, and certain juvenile "adjudications" can lead to an immediate denial of admission to higher education or – if not disclosed as required, the loss of a hard earned degree if not disclosed up front and later discovered.
The Clery Act -An Overreaction To Campus Security Issues
In the early 1990's Congress, reacting to high profile on campus crime, enacted the Crime Awareness and Campus Security Act (the Clery Act). This law, which is still the law today, mandates that colleges and universities track and report campus crime statistics as well as how these campuses handle security issues and the requirement to issue warnings when made necessary by the criteria in the Act.
As a result, colleges and universities, now as a practical matter take few "chances" in the admission of students with criminal justice-related histories – especially certain offenses such as violent or sex offenses. While the latter offenses trigger nearly automatic rejection – most other convictions in most institutions result in a slower, but nearly the same result – rejection from admission to the most desirable colleges.
If I Am Convicted In A Colorado Criminal Case – How Will The College I Am Applying To Use This Information?
First – How Do Colleges and Universities Obtain Criminal Background Checks?
As noted, almost ALL college applications (apps) require the disclosure of criminal background information. In this context the disclosure of a criminal conviction means almost certain rejection from entrance into the college you seek to enter. The door to higher education closes rapidly after a college receives and processes the information on the app itself.
Among the many different "apps" to college, the "Common Application," https://www.commonapp.org/ is clearly the most utilized application process.
The most common method to obtain your criminal history is … you. Self-disclosure as required in the college app itself (see below) ..is the most used method.
On the other hand, the second most preferred method is for institutions of higher learning to use private, for-profit background checking companies – which companies have made obtaining a college applicant's criminal history record and the sale of criminal background reports simple, quick, and inexpensive. But, to reiterate, even with instant access to "millions of databases," most college applications take the approach of the "Common App," they make YOU tell them about your criminal history, if any.
Here is the question as it appears on the Common App:
Have you ever been adjudicated guilty or convicted of a misdemeanor, felony, or other crime?

› Yes › No
[HMS – Note that you are not required to answer "yes" to this question, or provide an explanation, if the criminal adjudication or conviction has been expunged, sealed, annulled, pardoned, destroyed, erased, impounded, or otherwise ordered by a court to be kept confidential. (see below)]
A minority of colleges delves even deeper.
What follows are examples of questions that appear on other – non – common app college applications. These questions require applicants to disclose not only arrests that have resulted in criminal convictions, but also arrests for charges that have been dismissed, sealed, expunged, acquitted, pardoned, etc.
Have you been adjudicated, processed, involved in pretrial diversion or entered into a contract through juvenile court, or arrested without a conviction?

› Yes › No

Have you ever been pardoned or had your record expunged in any court? If so, please provide details as to the crime and conviction.

› Yes › No

Have you ever entered into any pretrial diversion program

as an adult? › Yes › No

Have you been arrested for a crime or an offense? › Yes › No
The legality of some of these questions is in serious question and the college applicant should consult local counsel before filling in answers to questions that may been illegal to ask from the outset.
Next – Once They Obtain Background Check – Criminal History Information -What Do They Do With The Information?
After disclosing a prior negative mark on the college application – what happens next?
It depends. Some colleges automatically reject the applicant. Others take additional steps along the admissions decision process. These additional steps can include a letter of explanation from the college applicant, a letter from a court official such as a probation officer or the prosecuting lawyer, a certified  copy of the disposition of the case, and an official copy of the Criminal History Record (obtained and supplied by the applicant).
While "automatic rejection" does not occur in every case upon discovery of a criminal conviction – more than half follow the disclosure of a criminal history with a personal interview. Of these, just under 50% require such things as a term of community supervision or other tasks before they can be even considered for admission.
The so called "decision makers" at this phase are many and varied – they may include:
An Academic Dean
A Member Of Campus Security
A Special Admissions Committee Engaged To Address This Issue
Legal Counsel For The College or University
Mental Health Risk Assessment Personnel Or A Team Of Experts To Assess Risk
It is wise to research exactly which "decision maker" is rendering the decision at your targeted college and then learn all you can about the processes they employ in making their admissions determination.
If Your Colorado Case Is Dismissed And Sealed Under Colorado Law
If you have taken the steps to arrange a plea bargain negotiated to result ultimately in a dismissal and then followed that plea bargain with a successful petition to seal your record – this is how you can answer the criminal history college application question in Colorado:
Question: Have you been convicted of a crime?

Answer: No. [HMS – Since the case was dismissed – there has not been a conviction.]

Question: Have you been arrested for a crime?

Answer: No.

[HMS – Even though this is not the truth – sealing the case under Colorado law allows this answer because – even if this is a lie – sealing the case permits you to essentially tell a legal "falsehood."]
Sealed information should never be requested on college applications. While this may be an error on the part of college admissions officials – some ask knowing they have no right to this information. Questions about sealed or expunged records attempt a way around the public policies underlying these laws and college applicants should never be compelled to reveal sealed or expunged information.
Health Care Professions Such As Nurses – Particularly Hard Hit By A Criminal History
It is important to note that certain professions – such as health care – are particularly hard hit by an applicant's criminal history. Most colleges automatically reject student applicants seeking a career in the field of medicine and health related vocations. The reasons are many – but a primary reason is the inability to intern at a clinical site. When this occurs mid through a degree in the making – the student may actually lose all of their hard work and be compelled to withdraw their application if they haven't started college or drop out of school, if they are already engaged in their education.
Look For Colleges And Universities That Do NOT Use Criminal History Information
The research strongly supports the proposition that a young person should carefully consider his or her future before taking the easy out decision of accepting a Colorado criminal conviction.
The lifetime impacts of a decision to plead guilty and "get it over with" are of the most serious sort that can be made. On the other hand, if the reader has already suffered a conviction, he or she should check to see if you can seal or expunge that conviction – which – under Colorado law – permits you to legally deny it's existence on the college application.
Failing these strategies, it is important to note that there exists a small minority of schools that do not collect any criminal history information, or do collect same – they exclude it from their admissions process and final admissions decisions. While finding these schools may be difficult – they ARE out there. Look for them and good luck.
Avoiding Colorado Criminal Convictions – The Impact Of A Criminal History On College Applications
If you found any of the information I have provided on this web page article helpful please click my Plus+1 or the Share buttons below so that others may also find it.
Never stop fighting – never stop believing in yourself and your right to due process of law.
ABOUT THE AUTHOR: H. Michael Steinberg – Email The Author at [email protected] – A Denver Colorado Criminal Defense Lawyer – or call his office at 303-627-7777 during business hours – or call his cell if you cannot wait and need his immediate assistance – 720-220-2277. Attorney H. Michael Steinberg is passionate about criminal defense. His extensive knowledge and experience of Colorado Criminal Law gives him the edge you need to properly handle your case.
You should be careful to make a responsible choice in selecting a Colorado Criminal Defense Lawyer – and we encourage you to "vet" our firm. Over the last 30 plus years – by focusing ONLY on Colorado criminal law – H. Michael has had the necessary time to commit to the task of constantly updating himself on nearly every area of criminal law, to include Colorado criminal law and procedure and trial and courtroom practice. H. Michael works hard to get his clients the best possible results in and out of the courtroom. He has written, and continues to write, extensively on Colorado criminal law and he hopes this article helps you in some small way – Avoiding Colorado Criminal Convictions – The Impact Of A Criminal History On College Applications.
Summary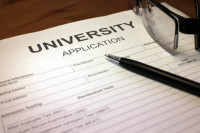 Article Name
Avoiding Colorado Criminal Convictions - The Impact Of A Criminal History On College Applications
Description
The ease with which so many young people plead guilty to seemingly "good" plea bargains with little or no thought of the impact of those criminal convictions on their future - is frightening. In 2015, the impact of any conviction on college entrance applications and at every level of society cannot be underscored enough.
Author
Other Articles of Interest:
If you found the information provided on this webpage to be helpful, please click my Plus+1 button so that others may also find it.
___________________________
H. Michael Steinberg Esq.
Attorney and Counselor at Law
The Colorado Criminal Defense Law Firm of H. Michael Steinberg
A Denver, Colorado Lawyer Focused Exclusively On
Colorado Criminal Law For Over 40 Years.

The Edward Building
8400 East Prentice Ave, Penthouse 1500
Greenwood Village, Colorado, 80111

Main: 303.627.7777
Cell: 720.220.2277
24/7 Pager: 303.543.4433
FAX (Toll Free): 1.877.533.6276

Always investigate a lawyer's qualifications and experience before making a
decision to retain that lawyer or, for that matter, any professional ...in any field.