After Your Child Is Arrested in Colorado – Juvenile Criminal Screening And The Detention Hearing Part I Of II
By H. Michael Steinberg – Colorado Criminal Juvenile Defense Lawyer – Attorney
Colorado – Juvenile Criminal Screening And The Detention Hearing – Following your child's arrest in Colorado – if they are not released immediately back to you – the parent – or the guardian of the child -and are instead – held in custody, then a screening of your child's case is performed (called a Colorado SB 94 screen). That is followed by a detention hearing.
The Arrest – The Discretion Placed In The Hands Of The Police
Colorado laws that address taking a juvenile into custody are covered by 19-2-502 – (in another article). A second law on the issuance of an arrest warrant is found in 19-2-503.(see this article).  This article speaks to what happens AFTER your child is in custody and NOT released to you immediately..
After A Child Is Held In A Detention – The Screening Process
Juvenile court is just "different." What all Denver and Colorado Juvenile Delinquency attorneys know is that a child believed to have committed a juvenile crime, "a delinquent act," in any of the major counties in Colorado such as Adams, Arapahoe, Broomfield, Denver, Douglas, Jefferson, El Paso, Larimer, Weld, and the like – are much more likely to end up in juvenile court.
The rights accorded to these kids are the same as those given to adults – EXCEPT the screening and detention process takes on a very different dimension and comes as a major surprise to the parents or legal guardians of these young people. Unlike adult court – where – as a condition of setting bond- adults in custody undergo a brief pre-trial interview at the jail, juveniles in custody go through an extensive screening process that may – at first – seem very intrusive and unnecessary. Sometimes referred to as an SB94 screen.
This article addresses that screening – the next artcile analyzes – what follows the screening – the Detention Hearing.
Colorado Law – The Source Of The Authority For The Juvenile Detention "Screen"
The screening team referred to in the next law utilizes certain "tools" to investigate the alleged "needs" of you child while awaiting the detention hearing.
Here is the relevant law on screening:
19-2-508. Detention and shelter – hearing – time limits – findings – review – confinement with adult offenders – restrictions.
[HMS – referred to as the "screening team" the law puts certain obligations on the court to screen a child in custody to decide where to "place" him or her.]
(1) A juvenile who must be taken from his or her home but who does not require physical restriction shall be given temporary care in a shelter facility designated by the court or the county department of social services and shall not be placed in detention.
(2) When a juvenile is placed in a detention facility, in a temporary holding facility, or in a shelter facility designated by the court, the screening team shall promptly so notify the court. The screening team shall also notify a parent or legal guardian or, if a parent or legal guardian cannot be located within the county, the person with whom the juvenile has been residing and inform him or her of the right to a prompt hearing to determine whether the juvenile is to be detained further. The court shall hold such detention hearing within forty-eight hours, excluding Saturdays, Sundays, and legal holidays.
Colorado – Juvenile Criminal Screening And The Detention Hearing – The Screen Itself
The "Screening Team" as defined in Section 19-1-103 (94.5) C.R.S:
…
(94.5) "Screening team" means the person or persons designated, pursuant to rule 3.7 of the Colorado rules of juvenile procedure, by the chief judge in each judicial district or, for the second judicial district, the presiding judge of the Denver juvenile court to make recommendations to the juvenile court concerning whether a juvenile taken into temporary custody should be released or admitted to a detention or shelter facility pursuant to section 19-2-508.
… completes the screening process described in 19-2-507 (2) C.R.S. and the Colorado Rules of Juvenile Procedure #3.7:
19-2-507. Duty of officer – screening teams – notification – release or detention.
(1) When a juvenile is taken into temporary custody and not released pending charges, the officer shall notify the screening team for the judicial district in which the juvenile is taken into custody. The screening team shall notify the juvenile's parent, guardian, or legal custodian without unnecessary delay and inform him or her that, if the juvenile is placed in detention or a temporary holding facility, all parties have a right to a prompt hearing to determine whether the juvenile is to be detained further. Such notification may be made to a person with whom the juvenile is residing if a parent, guardian, or legal custodian cannot be located. If the screening team is unable to make such notification, it may be made by any law enforcement officer, juvenile probation officer, detention center counselor, or common jailor in whose physical custody the juvenile is placed.
(2) The juvenile shall be detained if the law enforcement officer or the court determines that the juvenile's immediate welfare or the protection of the community require that the juvenile be detained. In determining whether a juvenile requires detention, the law enforcement officer or the court shall follow criteria for the detention of juvenile offenders which criteria are established in accordance with section 19-2-212.
Colorado Law On The Juvenile Delinquency "Risk Tools"
Here is the Colorado law that authorizes the use of certain "risk tools" to be used to evaluate your child while in custody:
19-2-212 –  Working group for criteria for placement of juvenile offenders – establishment of formula – review of criteria.
… [the law shall] establish a set of criteria for both detention and commitment for the purposes of determining which juvenile offenders are appropriate for placement in the physical or legal custody of the department of human services.
Such criteria shall conform with section 19-2-508. This set of criteria, when adopted by the department of human services and the judicial department, shall be used to promote a more uniform system of determining which juveniles should be placed in the physical custody of the department of human services or in the legal custody of the department of human services so that decisions for such placement of a juvenile are made based upon a uniform set of criteria throughout the state.
In developing such set of criteria, the working group shall utilize any existing risk scale devised by the department of human services or any other measures to determine when it is appropriate to place a juvenile in the physical custody of the department of human services or in the legal custody of the department of human services.
In addition, the criteria shall specifically take into account the educational needs of the juvenile and ensure the juvenile's access to appropriate educational services.
So What "Tools" Are Actually Used In The Juvenile Assessment?
In Colorado – the "risk" tool most likely to be used is the utilizing the "Juvenile Detention Screening and Assessment Guide" or (JDSAG) or the "Colorado Juvenile Risk Assessment" (CJRA). The first, the JDSAG, is said to measure the risk of failure to appear for court dates, to receive new charges, and key considerations in the use of secure detention versus other detention continuum options, and the second – the CJRA is said to assess the potential of youth to re-offend and to be released from detention.
The JDSAG is considered to be "a placement decision tree" based on Colorado law and the CJRA is a standardized, validated risk assessment that is intended to "identify a young person's risk to re-offend based on multiple, "proven" criminogenic factors.
The truth is neither "tool" – according to the research – is  capable of "comprehensively assessing the spectrum of risk to the youth and community that must be considered when making an initial or later decision regarding placement in secure detention." Thus there is the detention hearing which is intended to cover whether a judge should remand a child to juvenile jail.
The Purposes Of The Screen
Assessment, screening and/or evaluation are represented to be necessary for the following purposes:
Risk and need assessment
Court reports (detention hearing, bond revocation, progress reports)
Mental health screening and assessment for psychiatric or psychological conditions and
Medical screenings or assessments for medical conditions
The State Of Colorado Published This More Specific Description On The Need For Screens
"The primary goal of assessment is to determine those characteristics of the individual and his or her life  situation that may influence treatment decisions and contribute to the success of treatment. It would  determine if immediate intervention is warranted based on the risk."
'Additionally, assessment procedures  are crucial to the treatment planning process, which involves the integration of assessment information concerning the person's problem behavior and other areas of psychological and social functioning. Assessment instruments are aimed at gaining an understanding of the depth of a person's problems."
An assessment should include the following data on a number of dimensions:
Functional and dysfunctional aspects of psychological patterns;
Current and historical family and social structures;
Current and past history of physical, emotional and/or sexual abuse;
Client and family biological systems including current physical and mental health status;
Current and past history of client and family alcohol and other drug use/abuse; Factors affecting client, family and community safety; Leisure time activities;
Education and vocational history;
Religious or spiritual life;
Legal status;
Risk assessment and identification of criminogenic needs (factors that influence an individual to  engage in criminal behavior) as it relates to risk to re-offend or recidivate;
Life skill acquisition;
Previous treatment experiences;
Cultural factors including racial and ethnic background, age, gender, sexual orientation, linguistic  abilities;
Personal strengths and motivation.
In Colorado – Six General Reasons For Detaining – "Locking Up" A Child
There are six general reasons for detaining a juvenile in Colorado. These include whether the youth is:
Preadjudicated – This category included youth who committed a felony or misdemeanor who were also determined to require a secure placement.
Sentenced to Probation – This category included youth who had a technical violation of probation or new charges while on probation.
Detention Sentence – This category included youth who were sentenced to detention as part of their probation sentence or were just sentenced to detention. It also includes youth sentenced because of truancy or youth who were sent to detention while awaiting a social services placement.
Warrants/Remands – This category includes youth who failed to appear for court appearances or to comply with court ordered sanctions.
Other – This category includes holds of various kinds such as immigration holds or no bold holds. It also includes out of county warrants.
Division of Youth Corrections (DYC) Committed – Reasons detained in this category related to youth who were committed or on parole.
Sometimes The Judge Just Wants To Remand The Juvenile To Detention 
Judge's will sometimes – contrary to the recommendations of the police and or DA – decide to place a child in "secure detention" prior to the detention hearing. This is true especially for a youth who is alleged to have committed a felony offense or have a warrant out against them.
If – at the time of the detention hearing, the judge receives additional information, which includes the screening information, on which to base a placement decision, he or she may be persuaded to release the child. This persuasion task falls on the experience of your Colorado Juvenile Criminal Defense Lawyer.
 Colorado – Juvenile Criminal Screening And The Detention Hearing
 ABOUT THE AUTHOR: H. Michael Steinberg – Email The Author at: [email protected] or call his office at 303-627-7777 during business hours – or call his cell if you cannot wait and need his immediate assistance – 720-220-7777.
If you are charged with A Colorado crime or you have questions about [ Colorado – Juvenile Criminal Screening And The Detention Hearing ], please call our office. The Law Offices of H. Michael Steinberg, in Denver, Colorado, provide criminal defense clients with effective, efficient, intelligent and strong legal advocacy. We can educate you and help you navigate the stressful and complex legal process related to your criminal defense issue.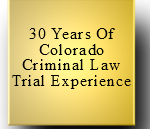 H. Michael Steinberg, is a Denver, Colorado criminal defense lawyer with over 30 years of day to day courtroom experience –  specializing in Colorado Criminal Law along the Front Range.  He will provide you with a free initial case consultation to evaluate your legal issues and to answer your questions with an honest assessment of your options.  Remember, it costs NOTHING to discuss your case.  Call now for an immediate free phone consultation.
---
Helping Clients To Make Informed Decisions In the Defense of Colorado Criminal Cases.
Contact A Lawyer with Three Decades of Experience as a Denver Criminal Attorney at The Steinberg Colorado Criminal Defense Law Firm Today.
Colorado Defense Lawyer H. Michael Steinberg provides solid criminal defense for clients throughout the Front Range of Colorado – including the City and County courts of Adams County, Arapahoe County, City and County of Boulder, City and County of Broomfield, City and County of Denver, Douglas County, El Paso County – Colorado Springs, Gilpin County, Jefferson County, Larimer County, and Weld County,…. and all the other cities and counties of Colorado along the I-25 Corridor… on cases involving … Colorado – Juvenile Criminal Screening And The Detention Hearing.
Other Articles of Interest:
If you found the information provided on this webpage to be helpful, please click my Plus+1 button so that others may also find it.
___________________________
H. Michael Steinberg Esq.
Attorney and Counselor at Law
The Colorado Criminal Defense Law Firm of H. Michael Steinberg
A Denver, Colorado Lawyer Focused Exclusively On
Colorado Criminal Law For Over 30 Years.

DTC Quadrant Building
5445 DTC Parkway, Penthouse 4
Greenwood Village, Colorado, 80111

Main: 303.627.7777
Cell: 720.220.2277
24/7 Pager: 303.543.4433
FAX (Toll Free): 1.877.533.6276

Always investigate a lawyer's qualifications and experience before making a
decision to retain that lawyer or, for that matter, any professional ...in any field.