Colorado Juvenile Diversion Programs 19-1- 103(44) – An Important Warning – Speedy Trial – Statute of Limitations 6-5-401(1)(a)
By H. Michael Steinberg – Colorado Juvenile Crimes Criminal Defense Lawyer – Email the Author at [email protected]

Colorado Juvenile Diversion Programs 19-1- 103(44) – An Important Warning – Speedy Trial – Statute of Limitations 6-5-401(1)(a) – Colorado's Juvenile Diversion Programs provide for a criminally charged juvenile to literally be "diverted" from the criminal court to the DA's Juvenile Offender Services Program. How does it work? What rights does the juvenile have to give up to "take a diversion offer."
Under Colorado Law – "diversion" means  "a decision made by a person with authority or a delegate of that person that results in specific official action of the legal system not being taken in regard to a specific juvenile. or child and in lieu thereof providing individually designed services by a specific program." § 19-1- 103(44), C.R.S."
In creating and funding Colorado's diversion programs – the Colorado State Legislature – provided an opportunity for juveniles to literally be diverted from the judicial system into a program whose focus is rehabilitation rather than punishment. § 19-2- 102, C.R.S. The idea then is to provide probation services that are "individually designed" and intended to prevent further involvement of juvenile in formal legal system.
No one who has made it through adolescence has any doubt that kids engage in risky behaviors, often will act without thinking making bad they never would have made as an adult. Juvenile Diversion is intended to give these kids a second chance to understand the reasons for making those decisions and to prevent them and others from happening again.
Accepting An Offer Of Colorado Juvenile Diversion
When a juvenile accepts a juvenile diversion offer – he or she signs a Diversion Agreement agreeing to enter the program and to complete the program successfully. Sometimes a diversion offer follows the filing of charges but most often the District Attorney agrees not to file any charges arising out of the incident before charges are filed.
Under most Juvenile Diversion Agreements – if the juvenile does not successfully complete the program, such as for non-compliance with the terms and conditions of the agreement, the juvenile will be prosecuted on the original charge as well as any new charges that might not have been originally contemplated. The DA is free to file whatever criminal charges he or she believes they can prove.
Here is a LINK (Juvenile_Justice_System_Flowchart) to a chart that explains the flow of a typical Colorado juvenile case. Note that the decision to offer diversion is slated to take place at the time the filing of charges is being decided by the DA.
During The Diversion Time Frame – You Are Required To Temporarily Give Up Your Right To A Speedy Trial
Colorado's Speedy Trial Law 6-5-401(1)(a), C.R.S. provides in part that no:
"adult person or juvenile shall be prosecuted, tried, or punished for any offense or delinquent act unless the indictment, information, complaint, or petition in delinquency is filed in a court of competent jurisdiction within the applicable time period."
Under Colorado's Speedy Trial Law – 19-2-704, C.R.S. – prosecutors throughout the state are allowed to form agreements with juvenile to participate in each jurisdiction's diversion program as an alternative to prosecuting a petition for delinquency. Using the words of the law the diversion agreement is the kind of program " brought to facilitate the disposition of a case."
Why Must I Waive (Give Up) My Right To A Speedy Trial To Take A Juvenile Diversion Offer?
In order to accept a juvenile diversion offer – "to facilitate the disposition of the case" under – 16-5-401(12) the juvenile's right to a speedy trial / (statute of limitations) must be tolled (suspended) according to the Colorado Court of Appeals – because of:
(1) the clear policy reasons behind the statute of limitations;
(2) the legislature's intent in tolling the statute of limitations in comparable situations;
(3) the preference to facilitate disposition of charges;
(4) the preference to first place juveniles in a diversion program to avoid the formal trial process; and
(5) the fact that the diversion program is treated similarly to a plea agreement.
If the Speedy Trial – (statute of limitations) was not tolled during the diversion period – there would be no incentive for the District Attorney to offer a diversion program to new offenders. Furthermore – the juvenile would have no inducement to try to comply with the program if there were no consequences for failure.
Conclusion
If you are a juvenile – or the parents of a juvenile – accepting a juvenile diversion offer is generally a good idea if there is evidence of your guilt (the case is provable) and you are willing to accept the many conditions of the specific program within which you are placed. But consider this – if you fail to successfully complete the program – you may be prosecuted for the original contemplated charge – or other charges not contemplated in the original case. Understanding this risk is one of the many variables underlying your decision.
On the other hand – if you successfully complete a juvenile diversion program – there is no further judicial action by the state's attorney, and the case against you is completely and permanently dismissed with prejudice (it can never be re-filed). The choice is yours.
Colorado Juvenile Diversion Programs 19-1- 103(44) – An Important Warning – Speedy Trial – Statute of Limitations 6-5-401(1)(a)
If you found any information I have provided on this web page article helpful please click my Plus+1 button below so that others may also find it.
ABOUT THE AUTHOR: H. Michael Steinberg – Email The Author at [email protected] – A Denver Colorado Juvenile Crimes Criminal Defense Lawyer – or call his office at 303-627-7777 during business hours – or call his cell if you cannot wait and need his immediate assistance – 720-220-2277.
If you are charged with A Colorado crime or you have questions about the topic of this article – Colorado Juvenile Diversion Programs 19-1- 103(44) – An Important Warning – Speedy Trial – Statute of Limitations 6-5-401(1)(a), please call our office. The Law Offices of H. Michael Steinberg, in Denver, Colorado, provide criminal defense clients with effective, efficient, intelligent and strong legal advocacy. We can educate you and help you navigate the stressful and complex legal process related to your criminal defense issue.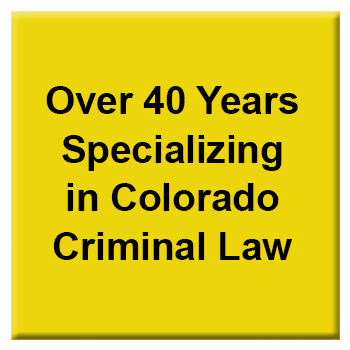 H. Michael Steinberg, is a Denver, Colorado criminal defense lawyer with over 40 years of day to day courtroom experience – specializing in Colorado Criminal Law along the Front Range. He will provide you with a free initial case consultation to evaluate your legal issues and to answer your questions with an honest assessment of your options. Remember, it costs NOTHING to discuss your case. Call now for an immediate free phone consultation.
Helping Clients To Make Informed Decisions In the Defense of Colorado Criminal Cases.
Contact A Lawyer with Three Decades of Experience as a Denver Criminal Attorney at The Steinberg Colorado Criminal Defense Law Firm today.
Colorado Defense Lawyer H. Michael Steinberg provides solid criminal defense for clients throughout the Front Range of Colorado – including the City and County courts of Adams County, Arapahoe County, City and County of Boulder, City and County of Broomfield, City and County of Denver, Douglas County, El Paso County – Colorado Springs, Gilpin County, Jefferson County, Larimer County, and Weld County,…. and all the other cities and counties of Colorado along the I-25 Corridor… on cases involving the subject of this article -Colorado Juvenile Diversion Programs 19-1- 103(44) – An Important Warning – Speedy Trial – Statute of Limitations 6-5-401(1)(a).
Other Articles of Interest:
If you found the information provided on this webpage to be helpful, please click my Plus+1 button so that others may also find it.
___________________________
H. Michael Steinberg Esq.
Attorney and Counselor at Law
The Colorado Criminal Defense Law Firm of H. Michael Steinberg
A Denver, Colorado Lawyer Focused Exclusively On
Colorado Criminal Law For Over 40 Years.

The Edward Building
8400 East Prentice Ave, Penthouse 1500
Greenwood Village, Colorado, 80111

Main: 303.627.7777
Cell: 720.220.2277
24/7 Pager: 303.543.4433
FAX (Toll Free): 1.877.533.6276

Always investigate a lawyer's qualifications and experience before making a
decision to retain that lawyer or, for that matter, any professional ...in any field.