Colorado Juvenile Criminal Cases – Why Plea Bargaining In Juvenile Criminal Cases Is Different
By H. Michael Steinberg Colorado Juvenile Criminal Defense Lawyer – Attorney
Colorado Juvenile Criminal Cases – Why Plea Bargaining In Juvenile Criminal Cases Is Different – Recent research into juvenile criminal cases supports a very different approach than the tough laws passed in the 1990's.  The new approach is based on massive differences in the juvenile brain and the motivations behind juvenile crime.
A New Decade Of Research On Juvenile Criminal Cases
The latest research into the juvenile brain has seen an explosion of information about the adolescent brain and the neurobiological underpinnings of adolescent behavior.
The sequential pathways followed in the decision making of the juvenile who commits to making wrong judgements and crimes.  Prevention and treatment programs are making changes to reflect this new knowledge base.
An experienced Colorado criminal defense lawyer must be familiar with the new theories in arguing for sanctions that make sense – sanctions that meet the goals of holding adolescents accountable for criminal conduct, preventing the re-offending of these children and making sure that they are treated fairly.
A Colorado Criminal Lawyer Works to Protect The Adolescent From Their Own Immaturity
Apply the new science – the timing of adolescence has no specific chronological beginning or end, it is phase in development between childhood and adulthood which begins at puberty, (typically about 12 or 13), and ends in late teens to early twenties. For the purpose of the research – the focus has been on the legal definition of a child – those under 18.
The movement of the Colorado juvenile criminal justice system to align its laws and policies  with the emerging evidence on adolescent development is critical to obtaining the best results for their clients.
Colorado Juvenile Criminal Cases – Why Plea Bargaining In Juvenile Criminal Cases Is Different- The Emerging Science On The Adolescent Brain
As the child emerges from childhood and adulthood, at the time when a "person" develops an integrated sense of self – thus separating from his or her parents and developing a separate and individual identity.  It is at that time that juveniles commit the crimes that reflect the change in their mental development and engage in "risky behaviors" such as alcohol and drug use, unsafe sex, or reckless driving.
Three Critical Differences Separating Juveniles and Adult Decision Making
The new research has demonstrated that adolescent behavior can be distinguished from Adult behavior in a minimum of three critically important ways.
First – Juveniles are less able to regulate their own behavior in "emotionally charged" contexts.
Second -Juveniles are significantly more sensitive to "external influences" such as peer pressure and immediate rewards.
And,
Third  -Juveniles are less able to make judgments and decisions that require future orientation.
The biological immaturity of the juvenile brain leads to an imbalance among the developing brain systems. The kind of pleasure-seeking and emotional reactivity that follows the typical  rapid development of the brain system results in a lack of self-control thus leaving adolescents less capable of the self-regulation one sees in adults.
While the strong impact and influence of the juvenile's environment is well known and understood and the impact of the juvenile's peers, parents, schools, and communities cannot be understated, the period of stress leading to the possible commission of criminal acts that occurs in adolescence is not only short lived – it tyoically does not extend beyond adolescence. That changes the approach juvenile courts should take to sanctions such as jail.
Here's the rub – and this is important to fully understand – the vast majority of youths who are arrested or referred to juvenile court have not committed serious offenses, and of those, half of them never appear in the system ever again.
Juvenile's who commit the most serious crimes such as homicide, aggravated assault, and burglary represent only a very small proportion of the overall juvenile delinquent population.
Why Incarceration And Separation From Their Families Makes No Sense
Pulling juveniles out of their homes – or incarcerating them in juvenile prisons  – actually has the opposite impact intended by the goals of Colorado juvenile criminal laws. 
An adolescents' healthy psychological development is positively impacted by:
• the presence of a parent or parent figure who is involved with the adolescent and concerned about his or her successful development;
• association with peers who value and model positive social behavior and academic success;
and
• activities that require autonomous decision making and critical thinking.
The schools, the extracurricular activities, and the work settings engaged in by juveniles provide opportunities for juveniles to learn to think for themselves, to develop self-reliance and self-efficacy, and to improve reasoning skills.
A New Approach to Juvenile Justice
If the overarching goal of the juvenile justice system is to support the positive social development of juveniles charged with juvenile crime and also to provide for the safety of the community, juvenile courts should hold juveniles accountable for their wrongdoing must include a "developmental approach" to juvenile justice.
Their Must Be Accountability With "Fairness"
By holding adolescents accountable for their offenses, juvenile offenders are held answerable for their wrongdoing, particularly for their conduct that has caused harm to victims.  BUT the kind of accountability in the juvenile system should never match the kind of punishments found in the adult system.
Absolute control and lengthy confinement in juvenile jails is NOT needed to assure that juveniles are held properly accountable. Juvenile courts can provide an opportunity for "kids" to accept responsibility for their actions, to make amends to their victims and to the community by participating in useful public service and other kinds of constructive programs such as restorative justice approaches. 
The Risk Assessment As A Tool For The Colorado Juvenile Criminal Defense Lawyer
A risk assessment can be done privately by a privately retained therapist. The assessment can then be used by the Colorado Juvenile Criminal Defense Lawyer to persuade the Judge and the District Attorney to take an appropriate path to the best possible result for the client.
Risk assessments are intended to determine whether a juvenile is at a low, medium, or high risk of re-offending based on such factors such as prior offending history and school performance.
The use of these tools provides for the proper assessment for persuading the authorities using  evidence-based interventions. One example would be therapy, such as aggression replacement therapy or cognitive-behavioral therapy rather than lengthy period of juvenile jail.
No Evidence That The Incarceration Of Juveniles Is Rehabilitative
There is no convincing evidence that the jailing of juvenile offenders beyond the minimum amount possible reduces the likelihood of re-offending. Treating juveniles fairly and with dignity  enhances the  moral development and socialization during the very difficult years of adolescence.
Colorado Juvenile Criminal Cases – Why Plea Bargaining In Juvenile Criminal Cases Is Different
ABOUT THE AUTHOR: H. Michael Steinberg – Email The Author  – A Denver Colorado Juvenile Criminal Defense Lawyer  – or call his office at 303-627-7777 during business hours – or call his cell if you cannot wait and need his immediate assistance – 720-220-7777.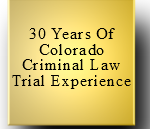 If you are charged with A Colorado crime or you have questions about Colorado Juvenile Criminal Cases – Why Plea Bargaining In Juvenile Criminal Cases Is Different, please call our office. The Law Offices of H. Michael Steinberg, in Denver, Colorado, provide criminal defense clients with effective, efficient, intelligent and strong legal advocacy. We can educate you and help you navigate the stressful and complex legal process related to your criminal defense issue.
H. Michael Steinberg, is a Denver, Colorado criminal defense lawyer with over 30 years of day to day courtroom experience –  specializing in Colorado Criminal Law along the Front Range.  He will provide you with a free initial case consultation to evaluate your legal issues and to answer your questions with an honest assessment of your options.  Remember, it costs NOTHING to discuss your case.  Call now for an immediate free phone consultation.
Helping Clients To Make Informed Decisions In the Defense of Colorado Criminal Cases.
Contact A Lawyer with Three Decades of Experience as a Denver Criminal Attorney at The Steinberg Colorado Criminal Defense Law Firm Today.
Colorado Defense Lawyer H. Michael Steinberg provides solid criminal defense for clients throughout the Front Range of Colorado – including the City and County courts of Adams County, Arapahoe County, City and County of Boulder, City and County of Broomfield, City and County of Denver, Douglas County, El Paso County – Colorado Springs, Gilpin County, Jefferson County, Larimer County, and Weld County,…. and all the other cities and counties of Colorado along the I-25 Corridor… on cases involving ..Colorado Juvenile Criminal Cases – Why Plea Bargaining In Juvenile Criminal Cases Is Different.
Other Articles of Interest:
If you found the information provided on this webpage to be helpful, please click my Plus+1 button so that others may also find it.
___________________________
H. Michael Steinberg Esq.
Attorney and Counselor at Law
The Colorado Criminal Defense Law Firm of H. Michael Steinberg
A Denver, Colorado Lawyer Focused Exclusively On
Colorado Criminal Law For Over 30 Years.

DTC Quadrant Building
5445 DTC Parkway, Penthouse 4
Greenwood Village, Colorado, 80111

Main: 303.627.7777
Cell: 720.220.2277
24/7 Pager: 303.543.4433
FAX (Toll Free): 1.877.533.6276

Always investigate a lawyer's qualifications and experience before making a
decision to retain that lawyer or, for that matter, any professional ...in any field.