Understanding Colorado House Arrest – Home Detention Technology and Procedures
By H. Michael Steinberg Colorado Domestic Violence Criminal Defense Lawyer – Attorney
Understanding Colorado House Arrest – Home Detention Technology and Procedures – Colorado juvenile criminal defense lawyers should oppose any form of incarceration on their juvenile clients as the impact of being "locked up" for a young person greatly exceeds any perceived benefit…
The Good Sense , Research and Reasoning Behind Home Confinement / Electronic Monitoring Programs In Colorado
As opposed to juvenile jails or other locked facilities, home confinement or house arrest – utilizing electronic home monitoring (EHM) provides an effective program which is not only designed to restrict the activities of juvenile offenders, but allows for young people charge with or even convcited (adjudicated) for crimes – to remain in their homes with their loved ones, go to work, engage in treatment modalities, attend school, and maintain all of the juvenile's other responsibilities while under the restriction of a judge's orders.
Close Monitoring Is Possible While On Colorado Home Arrest – Home Detention
House arrest – home detention also provides a positive environment for closely monitoring – either electronically or personal visits from probation officers. Frequent staff contacts mean the kind of monitoring that will make certain the juvenile is complying with the conditions of the sentence set by the court.
Understanding Colorado House Arrest – Home Detention Technology and Procedures – Two Types of Home Detention – House Arrest
Home detention – house arrest programs are generally ordered at one of two stages: the pretrial stage or the post-adjudication stage. Of course pretrial programs utilize home confinement in lieu of being "jailed" otherwise called "detention" as the case proceeds through the juvenile justice system.
Post – adjudication use of this technology is used as a substitute for incarceration as the sanction for punishing a juvenile for their criminal acts.
Originally Designed For DUI Drivers – The Broad And Diverse Uses Of The Technology
Home detention started out in most states as a sentencing alternative for "drunk drivers" so they might continue to support their families and meet their obligations in society. The technology was quickly extended to all phases of the adult and juvenile criminal justice system and has kept it's focus on the less serious and non-violence based offenses.
Having said that – home detention can still be effectively utilized by the courts and recommended by Colorado criminal defense lawyers in lieu of jail because of the ability of the technology to function under a variety of degrees or "levels" of restriction. These restrictions range from simple curfews to complete lock-downs of the juvenile court clients.
One Example Is The Modality Used By The Federal Courts
The United States District Courts, including Colorado, uses three distinct levels of restriction for Federal Probation and Pretrial Services utilization of house arrest – home detention.
Level 1 – Curfew – requires the program participants to remain at home every day at certain times.
Level II – Actual "home detention" has participants remain at home at all times except for pre-approved and scheduled absences, such as for work, school, treatment, church, attorney appointments, court appearances, and other court-ordered obligations.
Level III – Obviously the most restrictive – requires home incarceration 24-hours-a-day. This  "lock down" has few exceptions… but those exceptions include medical appointments, court appearances, and very narrow and specific activities specifically approved by the Court.
The Technology – EHM and GPS
The house arrest programs in Colorado are implemented using some form of Electronic Home  monitoring (EHM). The technology underlying EHM programs is expanding quickly . It now involves a wide range of technical systems and components. These include home monitoring devices such as:
wrist bracelets,
ankle bracelets,
field monitoring devices,
alcohol testing devices,
drug testing devices
voice verification systems,
and
global positioning (GPS) systems
Most often offenders who take advantage of an EHM program wear a wrist or ankle bracelet. The device emits a unique signal to a home monitoring device (HMD) located in the juvenile offender's home. The HMD electronically communicates with a central computer in 24 – 7 "monitoring center" utilizing the juvenile's home telephone land line.
In addition to the monitoring of the juvenile – some Colorado jurisdictions require juvenile offenders to be either be employed, attend outside counseling, or participate in educational activities such as online schools designed to make certain the children do not lose sight of their education or fall behind because of the criminal case.
Active Vs Passive Home – Detention – House Arrest Technologies
EHM systems are either "passive" or "active." If the EHM system used in your case is a "passive system" it will require you to answer a telephone and speak to a probation – pretrial or case manager. It may also require you to insert a transmitter into the HMD to establish our presence at the specific location.
An "active system", on the other hand, produces a continuous signal from the transmitter to the HMD. If you move out of range, the HMD alerts the monitoring center that there is a violation.
Finally, the monitoring center may be alerted if a signal is sent that establishes a deviation from the pre-approved time and location schedule. If that happens, the violation will trigger an immediate report from the monitoring agency. The rules and regulations for violations of EHM vary considerably from a reprimand, to a probation violation, to charges such as escape which constitute a whole new crime.
EHM – House Arrest – Home Detention Systems – WORK!
The research is clear. Several recent studies which examined pretrial and post adjudication EHM programs found low "recidivism" rates as a result of using EHM systems. Juveniles placed under electronic home monitoring or even more traditional home confinement sentences as alternatives to incarceration or "secure detention" had very low rates of recidivism (4 percent and 3 percent, respectively) while in the program.
In fact both EHM and "traditional home detention" were found to produce equivalent positive  alternatives to juvenile jails. Home confinement and EHM programs are consistent winners when compared to the "recidivism" rates for BOTH adults and juveniles when they are used  either for pretrial intervention or post-adjudication sentencing.
Both house arrest and EHM are also reasonable alternatives to jail – because they are considerably less expensive than incarceration, furthermore juveniles are not only "allowed," they are required, to continue their schooling while on house arrest. In addition, the human "costs" of putting kids in jail, while somewhat less tangible cannot be understated.
Understanding Colorado House Arrest – Home Detention Technology and Procedures
ABOUT THE AUTHOR: H. Michael Steinberg – Email The Author  – A Denver Colorado Juvenile Criminal Defense Lawyer  – or call his office at 303-627-7777 during business hours – or call his cell if you cannot wait and need his immediate assistance – 720-227-7777.
If you are charged with A Colorado crime or you have questions aboutnderstanding Colorado House Arrest – Home Detention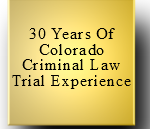 Technology and Procedures, please call our office. The Law Offices of H. Michael Steinberg, in Denver, Colorado, provide criminal defense clients with effective, efficient, intelligent and strong legal advocacy. We can educate you and help you navigate the stressful and complex legal process related to your criminal defense issue.
H. Michael Steinberg, is a Denver, Colorado criminal defense lawyer with over 30 years of day to day courtroom experience – specializing in Colorado Criminal Law along the Front Range.  He will provide you with a free initial case consultation to evaluate your legal issues and to answer your questions with an honest assessment of your options.  Remember, it costs NOTHING to discuss your case.  Call now for an immediate free phone consultation.
Helping Clients To Make Informed Decisions In the Defense of Colorado Criminal Cases.
Contact A Lawyer with Three Decades of Experience as a Denver Criminal Attorney at The Steinberg Colorado Criminal Defense Law Firm Today.
Colorado Defense Lawyer H. Michael Steinberg provides solid criminal defense for clients throughout the Front Range of Colorado – including the City and County courts of Adams County, Arapahoe County, City and County of Boulder, City and County of Broomfield, City and County of Denver, Douglas County, El Paso County – Colorado Springs, Gilpin County, Jefferson County, Larimer County, and Weld County,…. and all the other cities and counties of Colorado along the I-25 Corridor… on cases involving … Understanding Colorado House Arrest – Home Detention Technology and Procedures. 
Other Articles of Interest:
If you found the information provided on this webpage to be helpful, please click my Plus+1 button so that others may also find it.
___________________________
H. Michael Steinberg Esq.
Attorney and Counselor at Law
The Colorado Criminal Defense Law Firm of H. Michael Steinberg
A Denver, Colorado Lawyer Focused Exclusively On
Colorado Criminal Law For Over 30 Years.

DTC Quadrant Building
5445 DTC Parkway, Penthouse 4
Greenwood Village, Colorado, 80111

Main: 303.627.7777
Cell: 720.220.2277
24/7 Pager: 303.543.4433
FAX (Toll Free): 1.877.533.6276

Always investigate a lawyer's qualifications and experience before making a
decision to retain that lawyer or, for that matter, any professional ...in any field.